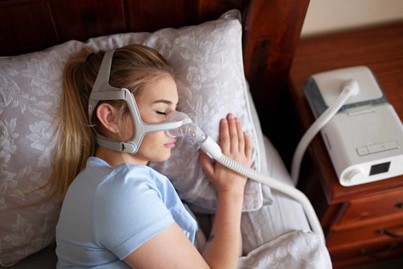 Are you feeling super tired even after a good night's sleep? Do you have disturbed breathing that stops and often starts during sleep? This could be due to sleep apnea. It is a serious sleep disorder and needs to be corrected before you experience complications.
The most common treatment for sleep apnea is the CPAP machine. CPAP means continuous positive airway pressure. Your requirement for oxygen during sleep is managed by this machine since it keeps your airways open when you sleep.
What is a CPAP machine?
A CPAP machine is used by people who are suffering from sleep apnea. The compressor in the machine generates a continuous flow of pressurized air which travels through an air filter to a tube. This tube delivers air into your nose and mouth through the mask that you are wearing.
This machine makes sure that your lungs receive maximum oxygen. The pressure in the CPAP machine helps to clear the blockages. Since there is nothing to obstruct the flow of oxygen, you can breathe easily and thereby sleep peacefully.
Lack of oxygen keeps you at the risk of high blood pressure, stroke, diabetes, and many other conditions.
The machine takes in air from the room and then purifies it. The purified air is pressurized and sent through the mask.
Types of CPAP masks:
There are many types of masks available, and what suits you depends on the kind of obstruction you are experiencing and your breathing habits.
Nasal mask
It covers the nose area and is suitable for people who move a lot during sleep.
Nasal pillow mask
This mask does not cover the entire nose but only the nostrils. In some types, they can also fit into the nostrils tight. People with lots of facial hair feel comfortable with a nasal pillow mask.
Full mask
This CPAP mask covers your nose and mouth. Some people breathe through their mouth while sleeping due to obstructed airways, and a full mask is suitable for them.
Benefits of CPAP
They help treat sleep apnea by supplying a continuous flow of oxygen.
CPAP helps to improve your sleep quality since you do not wake up frequently.
Since you sleep well, the risk of high blood pressure is reduced
It helps to reduce daytime sleepiness since your night's sleep covers the prescribed minimum time
CPAP machine helps to lower the risk of stroke and cardiovascular issues
It also helps in the control of sugar levels
Types of CPAP machines
Bi-level PAP machine– It uses two different pressures, one for inhalation and the other for exhalation.
Auto CPAP– This machine keeps the airways open by self-regulating the pressure.
Adaptive servo-ventilation– This is especially for people with central sleep apnea. The airways are kept open with a compulsory breath whenever necessary.
Care for the CPAP machine
The tube, mask, and water chamber should be cleaned regularly to avoid bacteria and mold exposure. Follow only the manufacturer's instructions for cleaning the device. Allow all the parts to dry completely after cleaning. Talk to your medical practitioner and find out the best kind of CPAP mask for you.
Contact us for booking orders and home deliveries
Phone Number – 9400630000
Whatsapp – 9447771361
Email – MediTvm@gmail.com